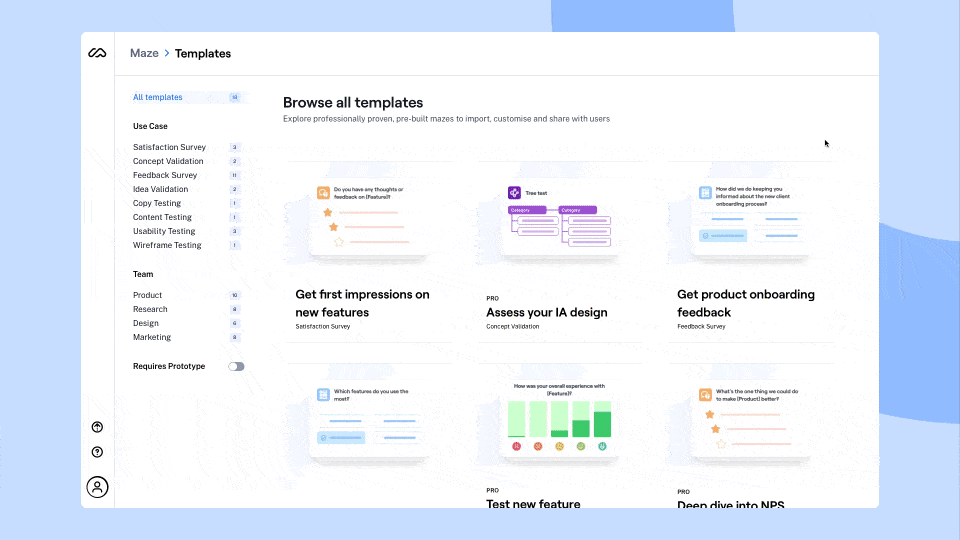 At Maze, we believe user insights shouldn't be siloed. We envision a future where everyone, from product to marketing, are empowered to test, learn and act, rapidly.
That's why we're excited to announce Templates, a library of pre-built tests and surveys, created and used by industry professionals that are ready for you to copy, customize and share with your own users.
Templates will help teams resolve resource restraints that keep them from testing early and often; by giving everyone the confidence and ability to source and access insights.
With Maze you can test anything from prototypes to copy, or round up user feedback—all in one place. Now, Templates empowers you and your team to go from inspiration to action in a matter of minutes.
With Templates you can:
Browse a library of tests and surveys to find inspiration for your mazes
Quickly go from idea to action with readymade templates you can send to users in a matter of clicks
Reduce time spent crafting questions, sequencing and second guessing with test templates used by professionals
Open up testing to the whole team
Our template library was designed with the whole product team in mind and makes it easy for anyone to get started.
Get started with Templates
Click 'Templates' in your project dashboard next to 'New Project' and you'll be taken to the template library.
Once you've selected a template, you'll find more details about how to use it and a preview of what your users will see. Click 'Use template' to copy and create as a maze project in your account. If the template requires a prototype you'll be ushered to add one in these next steps.
To learn more about how to get started with templates, visit our help center.
Getting the most out of Templates
The library will keep on growing so be sure to check back in for new inspiration. In the meantime, if you'd be interested in helping us build an amazing collection of templates, we'd love to hear your ideas and feedback!