Usability testing a new product
Validate usability across your wireframes and prototypes with real users early on. Use this pre-built template to capture valuable feedback on accessibility and user experience so you can see what's working (and what isn't).
Template by
Melanie Buset, User Experience Researcher @ Spotify
What you'll learn:
Clarify if users can navigate through your prototype successfully with a unique usability score and detailed design metrics.
Identify pain points, validate design decisions, and learn more about what worked well for your users.
Gather qualitative insights that give users an unmoderated space to offer opinions, feedback, and suggestions.
Discover a more sustainable way for your team to scale usability and user interface testing throughout the design process.
Automated metrics that fuel discovery
Get real insights, from bounce rates and misclicks to heatmaps, giving your team visual-rich data you can action within hours.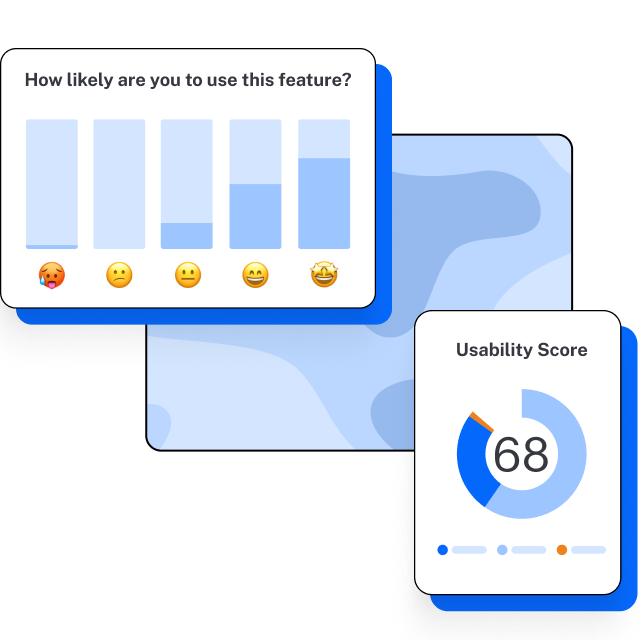 How to use
Log in to your Maze account (if you haven't got one, don't worry—it's free to join).
Select this usability testing template from the gallery.
Modify questions and copy to your preference, and don't forget to link your prototype.
Do a pilot test with somebody in your organization (preferably, not on your team).
All good? Then it's time to set it live and wait for the feedback to roll in!
What are some best practices for performing usability tests?

There are lots of things to keep in mind when you are usability testing. That said, here are some of the most important ones:

Get consent. You should get consent both at the beginning of your usability test and again at the end. At the beginning, ask for their consent to record the test and the results. At the end, ask for consent to keep the test results and use the data. It's important to ask twice because a participant only has a loose idea of what they are consenting to in the beginning.

Be inclusive. It's important to gather different perspectives on your product by including people of different abilities, demographics, usage behaviors, etc. Being intentional and inclusive in your testing audience will help you build better products because you will learn from people who are different than you and who see and do things that you do not.

Run a pilot test. Before taking your usability test out into the wild, test with somebody within your organization (and ideally not on your team). Not only can this person identify areas that may be missing from your test, they can also perform quality assurance on copy to make sure everything is clear to your users.

Establish evaluation criteria. Decide in advance how you think success should look for your product. Then try to establish a clear way of tracking this in your notes or studies.

Be mindful of length. Keep it short and sweet when it comes to designing your usability test. Your users are giving their own time to help provide insights for your product, so it's in your best interest to not exhaust them and skew the results by asking too much. If you worry that your usability test is too long, follow step 3 and gather feedback from a colleague.
Frequently Asked Questions
What is usability testing?

Usability testing is the process of evaluating how easy to use and intuitive a product is by testing it with real users. Usability testing usually involves getting participants to complete a list of tasks while observing and noting their interactions to identify usability issues and areas of improvement.
What is the purpose of usability testing?

Usability testing is used to understand if your design is usable and intuitive enough for users to accomplish their goals.
What is the difference between usability testing and user testing?

The difference between usability testing and user testing lies in their goal: user testing determines whether users need the product in question, whereas usability testing determines how easily the user can use the product. However, in the industry the two terms are broadly used interchangeably.
A-mazeing to meet you!
Welcome Screen
Have you used [Product] before?
Yes/No
If yes, how often do you use [Product] per week?
Multiple Choice
Imagine you were trying to accomplish [sending money] from your account
Prototype Test • 1 Path
What would you expect to happen once you've sent money to someone?
Open Question
Do you have any final thoughts on what you saw today?
Open Question