Each year sees the launch of about 30,000 new consumer products.
About 95% of those products fail.
There could be any number of reasons. Maybe it was the wrong time or the wrong market. Perhaps the product was successful initially but failed to respond to consumer feedback. Or it couldn't achieve product-market fit.
The remaining 5% are likely backed up by strong teams—from managers and marketers to designers and developers. One essential team when it comes to product success is the product management team. Using a wide array of tools, product management teams work together to ensure the product's overall success.
There are plenty of product management tools available to make this process easier, and they can help at all different stages of the product development process. These support PMs with product-related tasks, including the following:
Strategy and roadmapping

: Strategy and roadmapping tools allow you to map out the plan for your product in the upcoming months or years—ensuring you're heading in the right direction to achieve your business objectives

Testing

: Usability testing tools allow you to trial features with real users and receive actionable feedback on your product

User tracking and analysis

: These tools empower you to harness user research in product development by tracking, visualizing, and analyzing user activity to identify what is or isn't engaging users

Project management

: Project management tools provide a place to plan, collaborate, and facilitate communication

Feature flagging

: These tools allow you to turn features on and off after deployment, minimizing the risk of widespread issues with the product and allowing for informative A/B testing
Although the list isn't exhaustive, these tools provide valuable functions for different stages of the product management cycle. They're often used alongside each other. From testing your product to receiving customer feedback, product management tools are a key weapon in a product manager's arsenal.
Before we dive into the top product management tools available for you to try, let's answer the basics.
What is product management?
Product management is the organizational function that focuses on meeting a product's strategic and financial goals. To have every base covered, product managers dispose of a vast array of product management tools.
What is a product management tool?
A product management tool is a software application that helps product managers complete day-to-day tasks, such as understanding user needs and prioritizing product capabilities relating to the product management process.
What is a product management tool used for?
A product management tool is any tool used in a product-related task, such as:
Product roadmapping

User journey mapping

Feature prioritization

Managing product releases
They can be specific to product management—like testing tools—or have a more general use—like video conferencing software.
13 product management tools to try in 2022
Now that we better understand product management tools and their purpose let's look at the specifics. The best tool to use depends on the tasks at hand, as capabilities and necessities vary greatly. It also depends on your product and niche.
We've divided these tools up by functionality to make that decision easier for you.
Testing tools
1. Maze - The rapid testing tool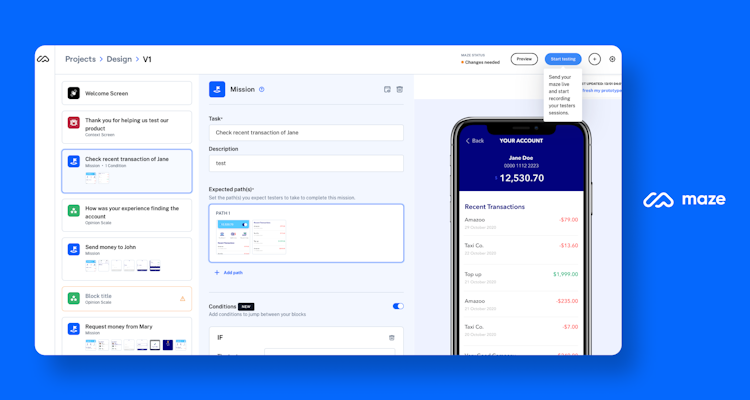 Maze is a continuous product discovery platform that empowers product teams to collect and consume user insights, continuously. With solutions for participant recruitment, product research, and reporting, Maze helps teams build the habit of continuous product discovery in a platform that enables everyone to run great research.
As a leader in usability and remote testing, Maze also offers other useful capabilities, such as participant management, heatmaps, and automatic reports. Maze reporting turns your test results into actionable data and communicates it in a visually dynamic, customizable report.
The platform also offers a wide range of direct integrations that allow you to import an existing prototype from your design tool of choice. These integrations include: Adobe XD, Figma, InVision, Marvel, and Sketch.
Maze offers three pricing plans. The Free plan allows you to run three projects and invite unlimited collaborators. The Pro plan starts at $25 per user/month and includes ten active projects, unlimited blocks and filters, and access to Pro Templates. You can also get in touch for a custom Organization solution that best fits your needs.
User tracking and analysis tools
2. Chameleon - The in-product engagement tool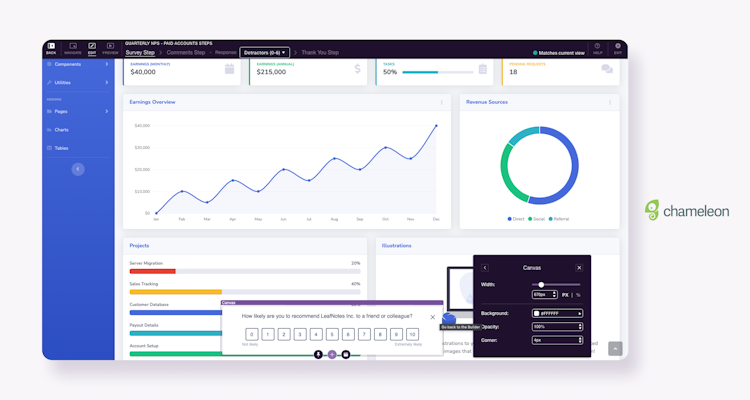 Chameleon is a product management tool to answer all your in-product engagement needs. Releasing your product is one thing, but tracking and ensuring its success and retention is another.
Chameleon helps your product succeed by allowing you to offer product tours to boost activation, tooltips to increase adoption, and survey tools for user feedback to guide future product decisions.
Chameleon offers a free trial and starts at $279/month for 2,000 monthly users. Plans vary depending on monthly users and can be adjusted if necessary.
Organizations looking for more options can subscribe to the Growth Plan, which offers unlimited everything (micro surveys, launchers, etc.) and priority support.
3. Canny - The customer feedback management tool
Canny is another product management tool focused on gathering user insights for product development and improvement. It allows you to capture, organize, and analyze product feedback all in one place.
With Canny, you can filter feedback to prioritize feature requests and build a product roadmap. The platform allows you to automatically notify contributors when you release a feature to keep them up to date and ensure the feedback loop stays strong.
In terms of pricing, Canny offers three pricing options. They depend on the number of users you expect to need, with options starting at $50/month for 100 tracked users.
For 1,000 tracked users, the price ascends to $200/month. Organizations with needs exceeding these are encouraged to get in touch for a custom solution.
4. Pendo - The product adoption tool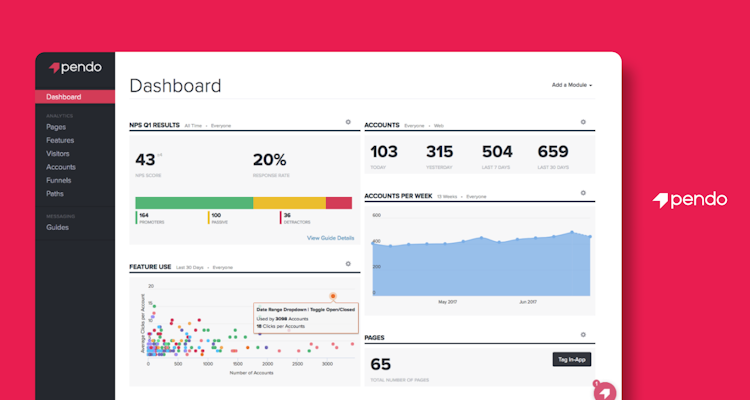 Pendo is the final user tracking and analytics tool on our list, and it primarily focuses on user adoption and onboarding. Teaching and encouraging your users to adopt your product can be difficult, but Pendo aims to reduce the learning curve and improve their product experience.
Its core product features include user insights, in-app guides, product feedback, and roadmapping capabilities. It also offers a wide range of mobile-specific data to help you understand how users engage with your product.
Pendo offers four different pricing options—free, team, pro, and enterprise—that all require you to get in touch. You can also choose to purchase specific parts of the Pendo product—such as its feedback or digital adoption capabilities—so it's a flexible tool depending on your needs.
Feature flagging tools
5. Split - The feature flagging tool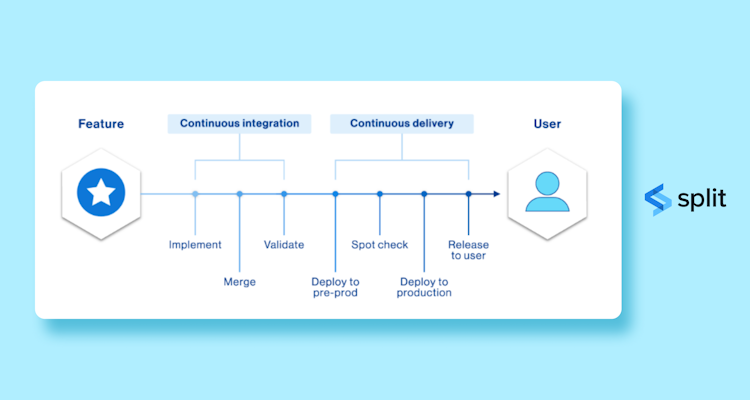 Split helps product teams reduce development cycle time with feature flags, mitigate release risk with alerts, and create an impact-driven culture with rigorous A/B testing.
The wide array of integrations available empowers the tool to provide you with the most useful data available and ensures you're up-to-date.
Pricing options start from free and are suitable for up to ten seats. Larger projects require organizations to upgrade to the whole platform experience. It's possible to include additional functionalities, and teams are encouraged to get in touch to discuss pricing.
Strategy and roadmapping tools
6. ProdPad - The feedback fuelled roadmapping tool
ProdPad combines product analytics with objective-lead roadmapping software to keep feedback at the center of product development. Its core features include product roadmapping, idea management and workflow, customer feedback and discovery, integration options, and product portfolio management.
There are multiple pricing options available for ProdPad:
Essential: $219/month

Advanced: $649/month

Performance: $1899/month

Enterprise: custom
7. Productboard - The customer-centric roadmapping tool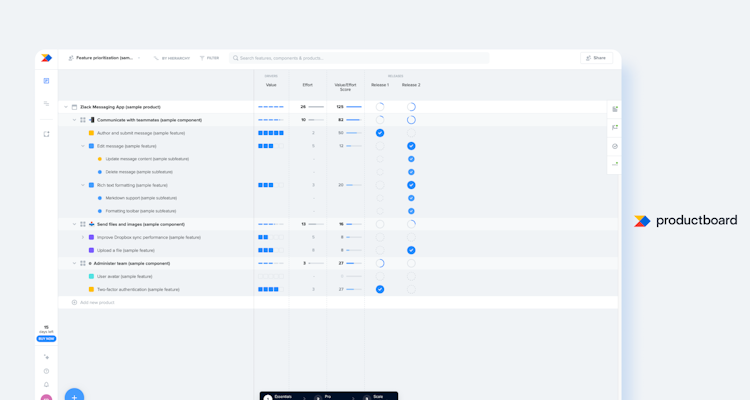 ProductBoard is a customer-centric roadmapping tool. It helps product managers understand what customers need and develop a plan of action to get there. It's a user-informed roadmapping software that prioritizes the most desired features.
Its key features revolve around its customer-centric approach to roadmapping and its ability to include feedback via integrated apps. It also provides insights, feature prioritization, and delivery integrations. When it comes to pricing, ProductBoard offers four different pricing options:
Essentials: $20 maker/month

Pro: $50 maker/month

Scale: $100 maker/month

Enterprise: custom
ProductBoard defines a maker as someone who has full access to edit, update, add, create and prioritize feature ideas, insights, and roadmaps. Platform capabilities increase throughout the price points but start with everything needed to dive right in.
8. Airfocus - The strategic product platform
Airfocus combines flexibility and ease-of-use with product strategy superpowers and modularity. The platform helps align teams and create a strategy for moving forward.
Its key features include quick and easy roadmapping, custom prioritization, unique release views, and flexible product management using a modular approach. They're also working on providing insight capabilities, so look out for that.
As for pricing, Airfocus offers multiple price points for all types of organizations:
Essential: $15 editor/month

Advanced: $39 editor/month

Pro: $89 editor/month

Enterprise: custom
Airfocus also offers early-stage startups access to their Pro plan at a discounted rate by applying online. Great news if you're a smaller company looking to scale to the big leagues.
9. Craft.io - The user story to strategy tool
Craft.io employs user stories to help businesses understand customer needs, articulate decision-making, and establish clear product processes.
Craft.io helps build transparency and alignment across your organization, leading to better products and smarter product teams. Craft.io does this by offering roadmapping capabilities, a spec editor, capacity planning, and a feedback portal.
Balance strategy, objectives, and delivery and apply quality product management frameworks to build a collaborative home for your team. Like Airfocus, Craft.io also has a prioritization engine to ensure you're focussing on the most pressing issues.
Pricing options are as follows:
Essentials: $49 user/month

Pro: $109 user/month

Enterprise: custom
10. Roadmunk - The online feedback capture tool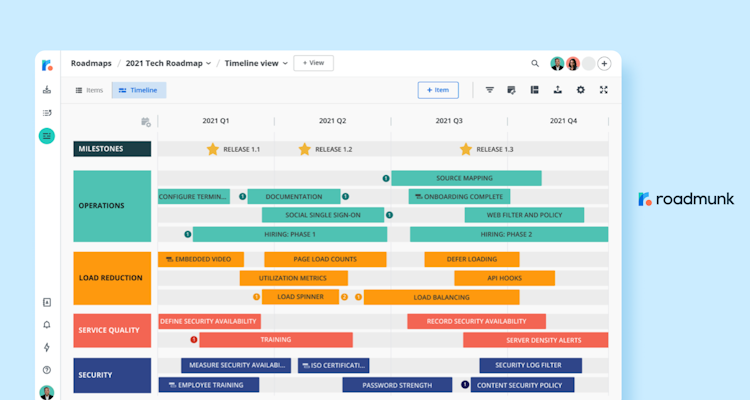 Roadmunk is the end-to-end road mapping software tool that lets you capture customer feedback, prioritize what to do next, and create excellent product roadmaps to communicate your strategy.
It has ample roadmap templates to get you started, and you're also able to create your own from scratch. Roadmunk offer four pricing options:
Starter: $25/month for one user

Business: $65 user/month

Professional: $129 user/month

Enterprise: custom
All plans start with a two-week free trial, so you can try out the tool before you commit to any plan.
Project management and collaboration tools
11. Monday - The scalable product management tool
Monday.com is project management software that allows you to manage everything in one place by building, running, and scaling your workflows on one collaboration platform. It's an ideal platform for product management, sales and CRM, marketing, software development, and more.
It's easy to use and set up and offers a wide array of integrations to keep everything in one place. Save valuable time by setting up automations and enjoy peace of mind with 24/7 support.
Monday offers a free version of its platform with limited capabilities for up to two users. However, for teams, you'll need to upgrade to access a wider array of functionalities.
Basic: $24 seat/month

Standard: $29 seat/month

Pro: $48 seat/month

Enterprise: custom
12. Jira - The software development management tool
Jira Software is a collaboration tool built for every member of your product team to plan, track, and release great software. The platform also provides key reporting capabilities to ensure your decisions are informed as best as possible and is ideal for software development teams and product managers.
It offers plenty of features designed for software development, such as Scrum boards, Kanban boards, product roadmaps, and agile reporting. Its core features include:
Flexible planning

Accurate estimations

Value-driven prioritization

Transparent execution of work

Actionable results

Scalable evolution
There are multiple pricing options to accommodate all product teams:
Free

Standard: $7 user/month

Premium: $14 user/month

Enterprise: custom
13. Miro - The collaboration whiteboard tool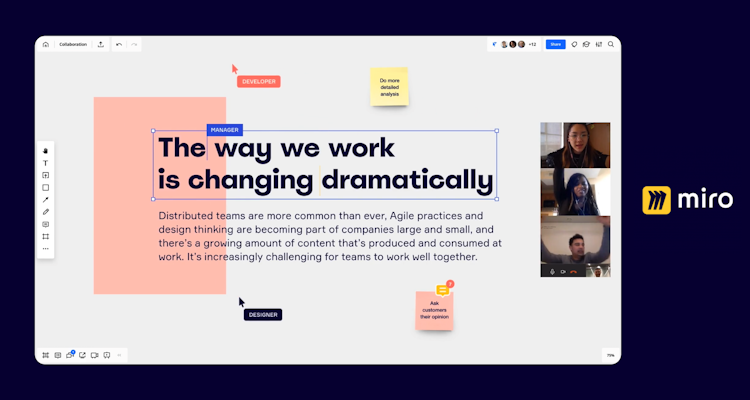 Miro is the last tool in our list of project management applications. It's a collaboration tool that allows you to create, collaborate, and centralize team communication for all your cross-functional teamwork.
The online whiteboard allows mouseover collaboration, easy screen-sharing and presentation, embedded video chat, and commenting to keep teams up-to-date. It's a great tool for a product manager looking to facilitate communication and collaboration.
Meetings and workshops

Ideation and brainstorming

Research and design

Agile project management

Strategy and planning

Mapping and diagramming
Miro offers a free version of their platform with limited capabilities, but team pricing starts at $8 per user/month. Business pricing starts at $16 user/month and includes additional functionalities, such as external editors. Teams of 50+ are encouraged to contact Miro for a bespoke solution.
Wrapping up
A product manager should have a wide variety of product management tools at their disposal to deliver a product that meets customers' needs. From building a product roadmap to developing product strategy, there's a tool for every product management job to be done.
Whether you're looking for comprehensive product management software or a tool to improve team communication, we hope you've found something to help you keep hitting your goals.
Frequently asked questions about product management tools
What are the best product management tools?

The best product management tools are those that help a product manager achieve their objectives. Some days, this is data analytics software—others, it's project management. On days where they're focused on the bigger picture, it's roadmapping software.

It's hard to pick the absolute best, but we know of some amazing product management tools. Here's a recap of our top product management tools: Maze, Chameleon, Canny, Pendo, Split, ProdPad, Productboard, Airfocus, Craft.io, Roadmunk, Monday, Jira, and Miro.

There is no one best tool, only great tools that help product managers get the job done. Take a look at our list and decide the type of tool you need, be it testing product features or a product roadmap—there's plenty to choose from.
What does a product manager do?

A product manager is responsible for the development of products for an organization. They typically own the business strategy behind a product, specify its functional requirements, and generally manage the launch of features.

A product manager uses product management tools to ensure success for the product at all stages of its lifecycle. The dynamic nature of a product lifecycle requires a product manager to have many skills, such as analytical, leadership, time management, and communication skills.