Survey question types with examples
In this chapter, we look at the most common survey question types you can use with examples and best practices on the right way to ask questions.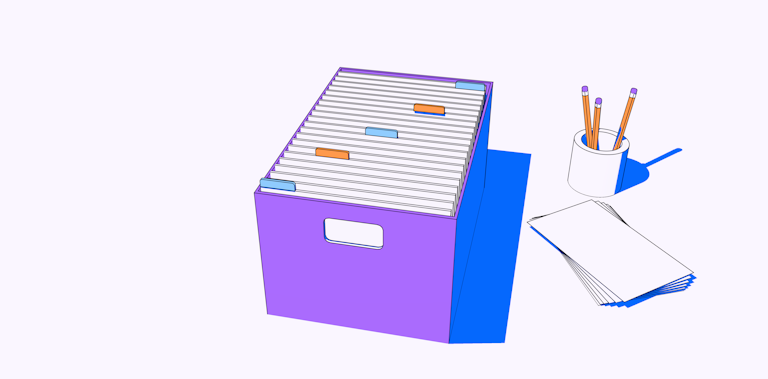 Like most things in UX research, the survey questions you use will depend on your research goals and what you're hoping to learn. Let's look at some of the most common survey question types with examples of good and bad questions, and tips on creating effective ones.
Get 350+ research questions 💡
We know asking the right research questions is hard. That's why we created a Question Bank with 350+ questions for you to use. Get it here.
Multiple-choice questions
Multiple-choice questions are the most common survey question types—a question is asked and a few options follow, asking the respondent to choose the option that most closely reflects their preference. These question types yield high response rates because they don't require much effort from the respondent.
Tips for creating multiple-choice questions
Try to avoid yes/no answers as they don't tell you much beyond that. If you need more information, follow up with another open-ended question to elaborate on why they made their choice.

When asking a multiple-choice question, it's a good idea to leave room for the respondent's voice and add an 'other' option

Ensure the options are mutually exclusive to avoid confusion

When asking a question about frequency, be sure to include a frame of reference for time (i.e., hourly, weekly, monthly, etc.)

For unmoderated surveys, be as descriptive as possible since you won't be there to answer any clarifying questions, provide visualizations if necessary to help the participant know what you're referring to, and ask questions that relate to the specific area the participant just interacted with to avoid unreliable recalls.
Examples of multiple-choice questions
"On average, how many times per week do you log in to your email?"
Once

2-5 times

6-10 times

11+ times

Other (please specify)
In this question, the options are clearly delineated with no overlapping responses. Having clear options to represent a respondent's choice makes it less confusing for both the respondent to answer and for the researcher to analyze the data. This example also allows the respondent to provide their own feedback if none of the options represent their usage and provides a time frame ("per week") rather than leaving the interpretation open to the respondent.
"How often do you log in to your email?"
Once

2-5 times

5-10 times

10+ times
This question doesn't provide any time frame of reference, so it will leave the respondent wondering what the word often refers to—per day, week, month, etc.? Plus, if they assume that the question refers to 'weekly' for example, and they typically log in five times per week, there are two options they could choose from, which could change their frequency quite drastically from five being the most (option 2) to 10 being the most (option 3).
Multi-select questions
Multi-select questions are similar to multiple-choice questions by offering a selection of answers to choose from, but as opposed to multiple-choice, multi-select questions allow the respondent to choose several options rather than just one. You can also add a limit to how many choices you'd like the respondent to select if that's important to your study.
Tips for creating multi-select questions
See tips above for multiple-choice questions

Avoid options that contradict each other or adding them in to catch if the respondents are actually reading the options

Add an option for participants to choose 'none of the above'

Make it clear to the participant that they can select more than one option with this question type

Only add a limit to the selection when absolutely necessary. People may only have two options that apply to them, but if you make them select a third, they'll select anything and tamper with the validity of the data.
Examples of multi-select questions
"I use my Google Workspace most often for the following (select your most common uses)"
To send/receive emails through Gmail

For video calls on Google Meet

To book meetings and keep others informed on my plans via gCal

To write reports using Google Docs

To keep all my files organized with Google Drive

Other (please provide as much information)
This example asks the participant to select their most common uses for their Google workplace without placing any limitations on their options. It also leaves room for the participant to provide their own input on how they use their Google Workplace.
"I use my Google Workspace for the following (select maximum 2)"
To send/receive emails through Gmail

For video calls on Google Meet

To book meetings and keep others informed on my plans via gCal

To write reports using Google Docs

To keep all my files organized with Google Drive
This example places a limitation on how many options the participant can select. If they actually have more than two main uses for Google Workplace, they'll be unable to provide the most accurate response. Moreover, there is no option for them to share if they have other use cases that are not reflected in the options above.
Scale questions
Scales, also known as Likert scale questions, are great for gauging people's thoughts and feelings on a topic (e.g., satisfaction, agreeableness, likelihood, and frequency). Scales are helpful when you're trying to collect more granular feedback on people's perceptions of your products and/or want to track the progression of improving a product.
Tips for creating scales questions
Provide a label for each option of the scale. Don't just add a label on either end and leave the middle ambiguous (i.e. very satisfied and very unsatisfied. What about the other options?)

Keep the scales consistent throughout the survey. If your first scale starts with a positive sentiment on the left and negative on the right, ensure all scales follow this structure to avoid confusion.

Use the first person when writing the question so it reads as if the respondent has written the question themselves

Try to avoid any usage of adjectives (e.g. good, pleasant, positive, like) that create a leading question

If you're going to use scale questions, avoid scales with more than five options. Having fewer options will mean less room for interpretation and ambiguity.
Examples of scale questions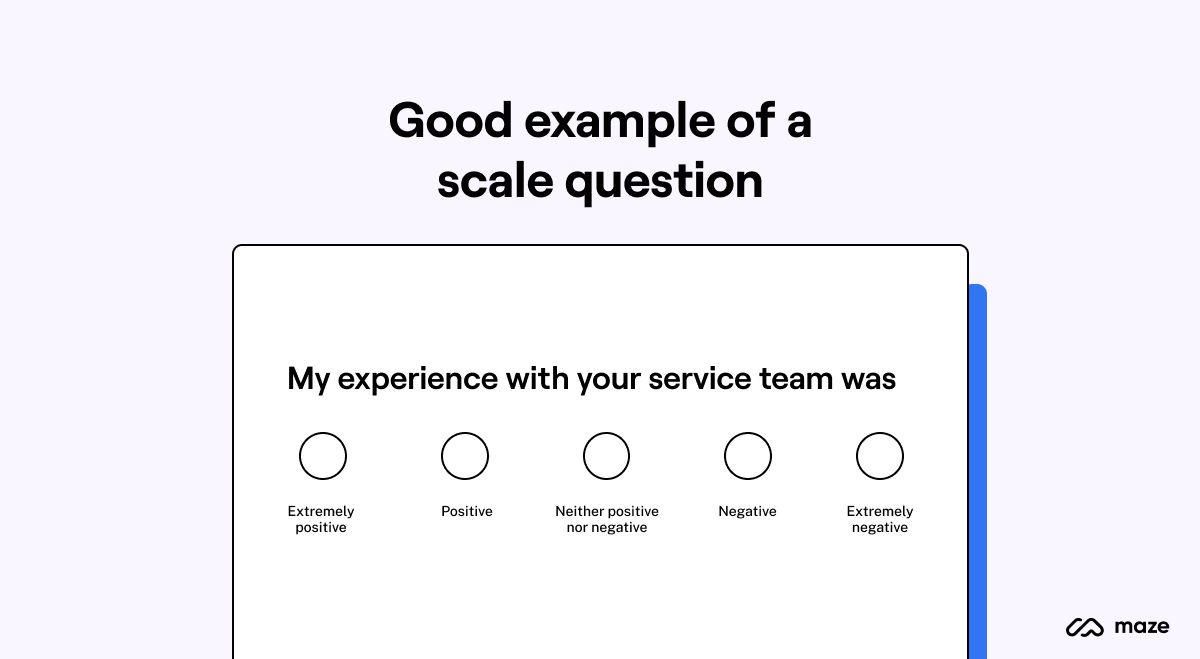 Good example of a scale question
This example uses the first person noun 'my' to refer to the experience a user has, which helps frame the question from the point of view of the respondent. The statement also omits any assumptions about a good or bad experience and allows the respondent to make that call based on what they select in the scale. Lastly, all the scales are labeled leaving no room for misinterpretation for the respondent to answer and the researcher to analyze the results.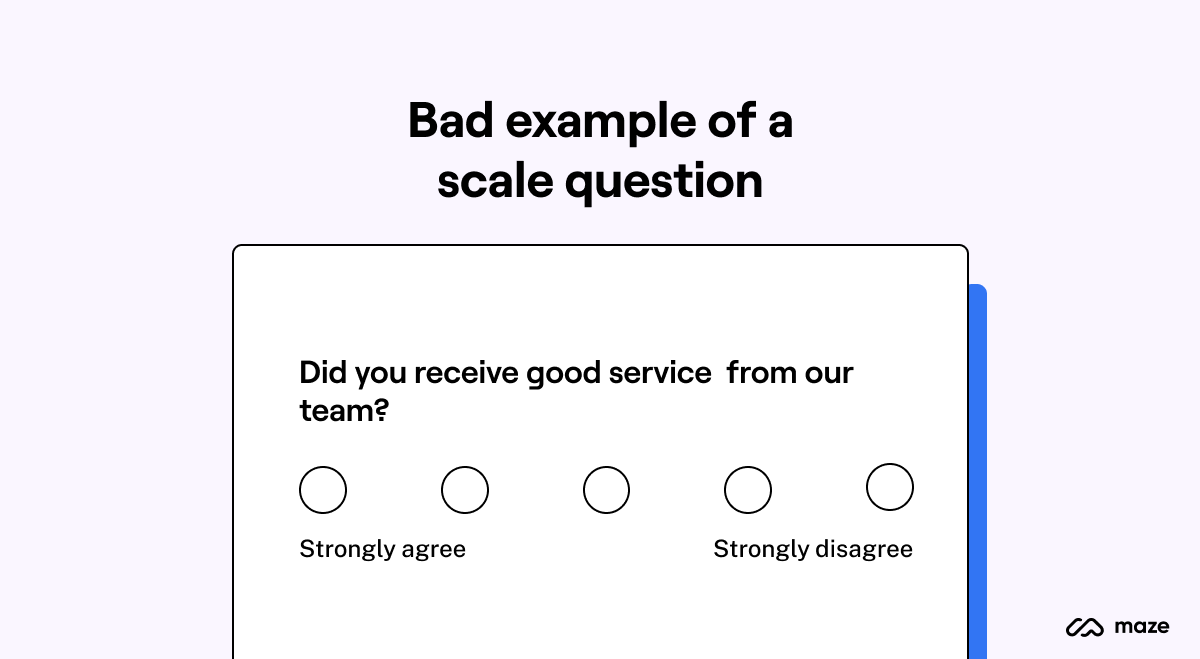 Bad example of a scale question
This second example inserts the word good, which leads with ambiguity and adds a positive element, sprinkling in some bias from the start. In addition, the word 'good' in this context is subjective given that what one believes to be good could be different for the next person. This example is also asked in the form of a question and not a first-person statement that the respondent could relate to. Lastly, the scale only has two labels making it ambiguous for the respondent to know what the middle three options represent.
Matrix table questions
Product tip 💡
Though Maze doesn't support Matrix Tables at the moment, our Card Sorting block is one way that you can collect similar results. Check out this article to learn more about how to use the Card Sorting block to gather large amounts of data quickly.
Matrix Tables consist of multiple scale questions that all share the same response options (e.g, very satisfied to very dissatisfied). They're great to use when you want to gather a lot of feedback quicker and combine multiple questions together. As with scale questions, you can use Matrix Tables to gauge user sentiment and gather feedback on a specific theme or set of questions.
Tips for creating Matrix Tables
See tips above for scales

Don't make them too long by adding too many questions. Include a max of five questions per table.

Keep the content of your table within a similar theme. You don't want to confuse your participants by making them switch context.

Keep the tense of your statements consistent. If you're going to present the first statement in the first person, present all statements in the same way.

Remember to present your matrix as a question and call out the type of rating scale they'll be answering with.
Examples of Matrix Tables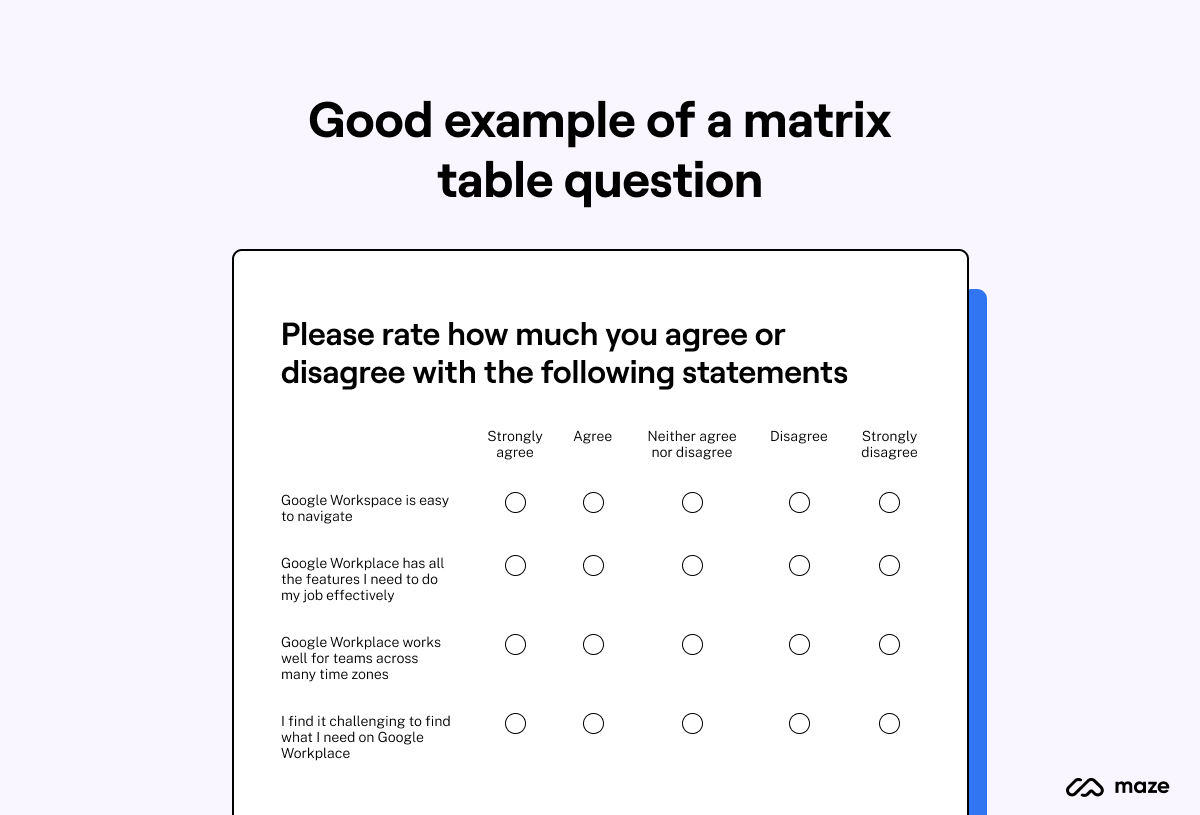 Good example of a Matrix table
This example presents participants with a question and informs them that they will be asked to share how much they agree or disagree with something to help them start framing the statements with agreeableness in mind.
Each option is written in the first person as if the participant is reading from their perspective. Lastly, the Matrix table has one overarching theme of Google Workplace that's present in each question and only four statements to respond to.
Rate the following statements
Strongly agree / agree / neither agree nor disagree / disagree / strongly disagree
Google Workspace is easy to navigate

I prefer Google Home over other voice assistants

Google Workplace has all the features I need to do my job effectively

Google Workplace works well for teams across many time zones

It's difficult to sync music to my Google Home

I find it challenging to find what I need on Google Workplace

My Google Home frustrates me sometimes
This example lacks a question that informs the participant what they should expect for the coming statements. It also includes several statements under one question which would likely tire the participant and increase the likelihood that they won't answer all the questions accurately or at all. There are also random statements about Google Home now sprinkled in, which don't relate to the theme of Google Workplace.
Open-ended questions
Also known as open-text questions, these types of questions are great when you want to really capture an answer in the respondents' own words. They are really helpful to learn about past experiences and behaviors or gather a better understanding of a user's mental model.
Open-ended questions can be challenging to analyze given the subjective nature of the feedback, but they can also provide you with the richest insight into your customers' motivations, behaviours, and needs.
Tips for creating open-ended questions
Inform the respondent about how much or little detail you're looking for in their answers (i.e., you could ask them to provide X number of points to the question or prompt them by asking for 'as much detail as possible')

If the open-ended question follows a previous answer, add a prompt to help jog the respondents' memory (e.g., "Based on your answer above, please provide additional context about what led you to choose X")

A great survey should leave an open-text question at the end for the participant to add any additional details or feedback

Be aware of what open-ended questions are mandatory and which ones are optional. Open-text requires a lot of effort from your customers so only make them mandatory when absolutely necessary. Otherwise, you might receive filler answers like "ajhdfahfkandfn" just so they can fill in the space and move to the next question.

Similar to the point above, remove the required word count or you'll receive a lot of gibberish responses if there's a minimum number of words they need to provide.
Examples of open-ended questions
"In as much detail, please share how you would describe [insert product name] to a friend. Please speak about its features and share your personal experience."
This example prompts the respondent to provide as much detail as they can, and specifically, to mention the features of the product and to recall their own personal experience with it. Additionally, this question refers back to the actual product name so the respondent knows exactly what you want to hear about.
Tip: You can also break this question up into two parts for additional clarity:
Part one: "Please recall a time in the last week where you used [insert product name], what were you trying to achieve and how did you meet that goal?"

Part two: "Now in as much detail, please share how you would describe this product to a friend."
"How would you describe this to a friend?"
This second example is super ambiguous and leaves a lot of unknowns in terms of how much detail is required and what "this" refers to that the respondent should speak about.
Final thoughts
Hopefully by now you're convinced of the importance of gathering customer feedback and feel ready to gather feedback via surveys! As mentioned throughout this guide, surveys are a helpful method when you want to gather insight about user sentiment, gauge interest in future concepts, gather demographic information about your customers, or to dig deeper into a specific known problem space.
There will be some instances where the survey alone has brought you all the insight you needed to move forward, while at other times you may need to follow up with more in-depth user interviews. Regardless, you will always learn something from a survey, especially if designed with the principles and tips highlighted in this guide.
Whatever the reason for your survey, remember to always start with a research plan, get aligned with your stakeholders, test the survey before launch, and compensate your customers for their time and input!